Safe, durable public toilet solutions in Helsingborg
We think long-term. When we build, we're not just building to solve a problem today, we're building to prevent problems in the future. Through good relationships, we can work with customers to develop and create safer, more secure public spaces – one public toilet at a time.
Not just one public toilet in Helsingborg, Sweden
In Helsingborg, we operate and maintain 41 of the city's 47 public toilets, 29 of which are from Danfo. With a single supplier handling development, delivery and maintenance of the city's public toilets, we make it simple for our customers to provide safe, clean, durable toilets.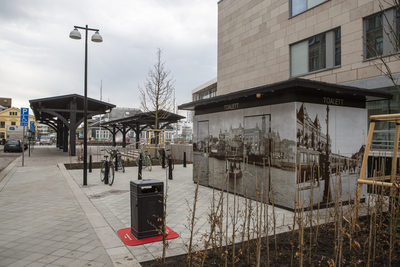 Danfo360° - Operation and maintenance of public toilets
Another advantage of having Danfo as both a supplier and a service partner is that we can take more responsibility. We work proactively, analysing potential problems and how to prevent them right from the start. And if problems arise, we're just a phone call away. Some call it service – we call it Danfo360°.
Maintenance and service of public toilets provide longer service life and protect the environment
We build all our public toilets based on the functions needed to provide a good user experience, making sure the building can handle the climate and conditions where it is situated. Our cooperation with the City of Helsingborg proves that quality materials and construction result in sustainable public toilets and life-cycle costs. They turned these public procurements into economically and environmentally sustainable investments.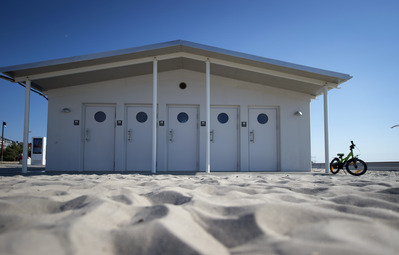 Clean, well-maintained public toilets for a safer city
What makes Danfo toilet buildings unique is that they are more than just toilet buildings. They are part of their environment. To maintain a safe, secure urban environment, every public toilet should be well-maintained. Through regular operations and maintenance efforts, we create a safer environment for city residents and secure our relationship with the customer.
We're involved from idea to finished toilet – and long after
A long-term relationship is based on good relations and good customer knowledge. When you need a new public toilet, we are there to discuss where and what kind of additional toilets might be needed. Every toilet solution is developed from the ground up. Together with the City of Helsingborg, we are developing society-changing innovations. We combine their ideas with our expertise to develop new solutions – because we know that the public spaces of the future will not be "one size fits all".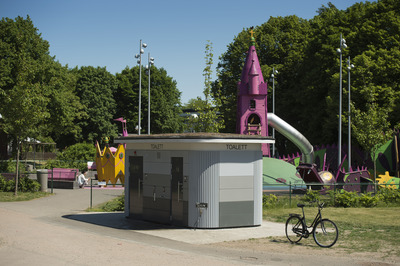 Feedback from the City of Helsingborg

"One positive effect of having had Danfo as a contractor for so many years is that they sometimes know our public toilets better than we do ourselves. As a result, they come to us with suggested improvements – and I think that's fantastic." – Georg Hermann, Civil engineer, City of Helsingborg

"I think it's fantastic that they look at things in terms of a broader social context. They don't just think about the individual user experience, but about making the surrounding area feel safe and secure." – Lovisa Snekkersten, Community Manager, City of Helsingborg

Do you want to know more about Danfo and our public toilets? Contact Andrew