Danfo360 - Operation and maintenance of public toilets
We build, maintain and operate public toilets. Some call it a safe, secure solution. We call it peace of mind. We provide better overall economy and longer useful life for your toilet building – and you never have to worry about unforeseen problems. Besides offering smart solutions for financing and access, we can take responsibility for keeping your toilet clean, safe and durable for decades.
Do you want us to take full responsibility for toilet construction, operation and maintenance? With Danfo360 - a full service agreement - you get the best from Danfo. We own the building and are responsible for everything from construction to daily operation - including dealing with any damage.
Ensure an accessible public toilet
The availability and cleanliness of public toilets has a great impact on the overall impression of a city or place to visit. We ensure that the toilets are accessible and with the daily supervision and maintenance, we extend the life of the toilet building.

Studies show that a clean and well-maintained public toilet with high functionality reduces the risk of littering and vandalism. This in turn means higher availability and increased visitor frequency.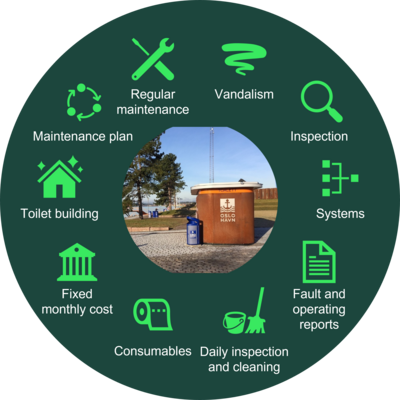 Daily inspection and cleaning of public toilets
To ensure a high level of functionality, we carry out daily inspections to work proactively with maintenance and ensure a functional public toilet. The daily operation includes cleaning, opening and locking according to agreement as well as refilling of consumables.

To achieve the high quality that we guarantee in our public toilet buildings in terms of operation and maintenance, we work according to our self-developed service manual. It contains instructions for operation and maintenance of Danfo's public toilets and is based on over 50 years of experience with toilets.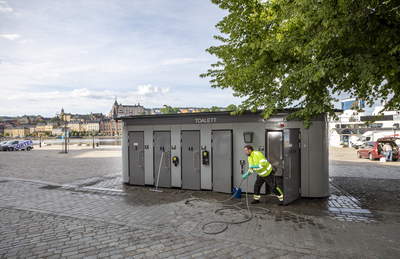 Fixed monthly cost for public toilet
With the Danfo360 option, you as a customer can get a fixed monthly cost for toilet construction, operation and maintenance. Simplified, it can be described as a functional rent where everything is included and Danfo takes overall responsibility
Link
CONTACT Andrew FOR MORE INFORMATION ABOUT DANFO360