Sustainable toilet solutions since 1969
Access to a public toilet can make all the difference when people are choosing a destination to visit, and it's what makes long car trips along our highways possible. That's why we build toilet solutions for urban settings, nature preserves and everything in between. For a public toilet to be available to everyone, it has to be adapted, developed and maintained so it feels welcoming. Night and day, for you and for me.
50 years' experience for the toilet solutions of the future
We help our customers with expertise and advice starting in the planning stages of an outdoor environment. Over the years, we have amassed a great deal of experience dealing with security, the environment and comfort for public toilets. Danfo was founded in 1969 in Nora, a pretty little city on the shores of Lake Nora in Sweden.
Today we have found a home in the global market, and in addition to Sweden, have offices in Norway, Great Britain and the United Arab Emirates. But that's just the start. Our vision for the future has Danfo contributing to a better public environment worldwide.

A public toilet with as much design as cleaning and maintenance
When you choose a public toilet from Danfo, you do not have to compromise between design and service. Together with our experts and designers, we can create a first-class visitor experience. In addition to being able to offer flexible solutions and design choices, we offer public toilets with the option of adding a bicycle pump or drinking fountain - for accessible and welcoming visitor experiences.
But we not only build toilet buildings, we also maintain and operate them. Because what makes a Danfo a Danfo is just that. The combination of smart and aesthetic design solutions together with operation and maintenance developed for the public toilet.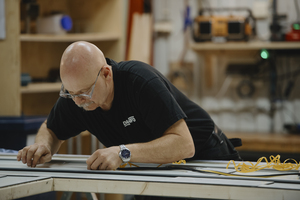 A whole corporate group built on toilet solutions
We don't operate worldwide – yet. But we can be found in the United Arab Emirates, Norway, Great Britain and Sweden. The Danfo International group also includes our subsidiary Hyrtoaletten and our popular products NARQ and Pacto.

Hyrtoaletten
It's exactly what it sounds like … in Swedish, that is. A toilet for hire. A mobile rental toilet providing a temporary solution at a construction site, a beach during the summer months, a private event or a corporate activity.

NaRQ
A smart toilet that hygienically separates out drugs directly in the toilet, and is suitable for prisons, airports, jails, etc.

Pacto
A simple but revolutionary technology. Our dry toilet can be used in areas without any access to electricity or water.
Link
WANT TO KNOW MORE ABOUT DANFO? PLEASE CONTACT US