Reuse of Public Toilet in Katrineholm
Katrineholm, Sweden
Sveaparken is the largest and most visited playground in Katrineholm municipality. It has been renovated in stages and has become a popular destination. With higher visitor numbers, the need for a public toilet increased.
A new water playground has been installed, the park has been expanded and improved, and features such as beach volleyball courts, lighting for sledding, and most recently a public toilet have been added through a procurement process from Danfo.
"In the procurement process, we contacted three suppliers who responded to our request. The winner of the procurement was Danfo, who could offer a reused toilet building," says Håkan Stenström, infrastructure project manager at Katrineholm municipality.


92.5% reused material in a public toilet
In the toilet in Katrineholm, Danfo was able to reuse 92.5% of the weight of the public toilet. Katrineholm Municipality chose a new facade color, added water outlets and a bike pump, and made some minor upgrades.
"The end result is a sustainable solution through reuse, while we get a robust building that can withstand the public environment it is in. A building does not expire in five years - if it can be reused, we will do it," says Håkan Stenström.


Thinking in new ways
What do you think about so much material being reused?
"It feels good, of course. At the same time, it is a thought-provoking question: What else could we reuse, and how can we think in new ways? Today, we already sell products, tools, and other items that we no longer use so that they can live on. But there is more to do," says Håkan Stenström, who concludes with:
"Reusing materials and products in new ways makes a difference both in the short and long term and is important for us in our work to develop our municipality and to achieve the UN's global goals in Agenda 2030."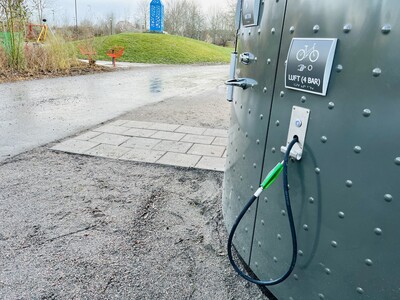 Photo: Josefin Lundin, Katrineholm municipality
Facts about Sveaparken: Sveaparken is located near Kullbergska Hospital in Katrineholm. Here you will find Katrineholm municipality's largest and most visited playground, with several exciting public art installations, a brand new water playground, beach volleyball courts, and small wooded areas for adventure and play. In winter, the park becomes a meeting place around the illuminated sled hill that is suitable for both small and large sledders.
Link
ARE YOU ALSO WORKING ACTIVELY WITH SUSTAINABILITY AND AGENDA 2030? CONTACT US AND WE CAN TELL YOU MORE ABOUT OUR WORK.