Banbury Toilet & Changing Places Renovation Project
Banbury, Oxfordshire
Cherwell District Council chose Danfo UK Ltd to renovate their existing toilets in Horsefair, Banbury to a modern Changing Places toilet.
The toilet & changing places renovation project
Danfo refurbished an existing toilet block with 7 cubicles to 4 separate toilets with contactless and cash entry capabilities. We also installed and refurbished the Changing Places facilities.
To provide a new and well-serviced toilet facility, Danfo demolished the existing internal walls to provide new block work. Levelled the floor, plastered the walls & ceilings and tiled the flooring. Installed highly robust and solid Wallgate toilet units plus fixtures & fittings. Danfo also installed new doors with ironmongery and saved our client thousands by repairing and treating the existing external oak wooden doors instead of replacing them.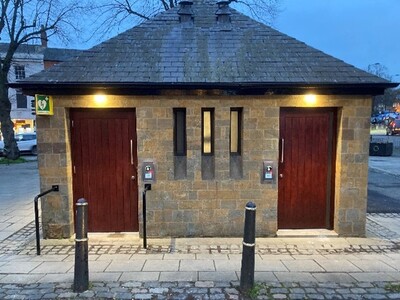 Our service delivery
Our service delivery included the following technical elements:
Electrical: Danfo wired electrics to install contactless payment systems, door control access capabilities and connections to all equipment, including changing facilities, such as, bed and sink unit. Ensuring Health and Safety when fitting the electrics, we implemented best practice by installing through first and second phased fixing. The first phase included the positioning and securing of accessory boxes and the second included the preparation and safe positioning of cables.


Carpentry/joinery - Installed new doors with ironmongery and we saved our client £2000 by repairing and treating the existing oak wooden doors instead of replacing them.

Plumbing - Danfo installed new toilet pans, Wallgate systems and sinks in each toilet, as well as in the Changing Places facility.

Heating and ventilation - Danfo installed a heating and ventilation system to keep air flowing through the toilet block to reduce odours and maintain an ambient temperature for users.

Groundworks - To achieve required floor levels and provide a tidy finish, Danfo covered the external floor with tarmac and installed external drainage works.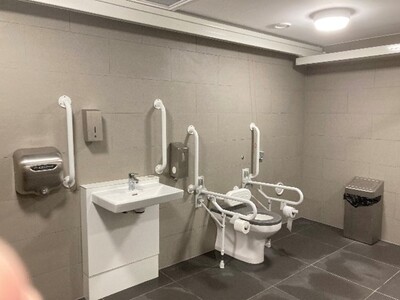 Challenges we faced and overcame on this contract
When delivering our services to the Horsefair public toilets, we faced a number of challenges. As demonstrable evidence of our capability and high standards, we overcame these challenges to deliver an exceptionally built toilet building.
Challenge 1 - Two thirds through our contract, our subcontracted Tiler tested positive with Covid-19 and could not attend site for 2 weeks. To ensure business continuity, we employed our multi-skilled and cross-trained Maintenance Operatives from our West Oxfordshire contract to carry out some of the tiling work.
Challenge 2 - Due to variation requests from the client, the contract date was continuously extended. We overcame this challenge due to our long-standing and excellent relationships with our subcontractors. We were able to negotiate with them and they had the flexibility to meet the additional works requirements as well as complete their other scheduled works.
Challenge 3 - Our Wallgate system mirrors were broken upon delivery and we could not install them. We have a long-standing partnership with Wallgate as we procure their products often. Due to our relationship, they quickly sent us adequate replacement mirrors, which were delivered to the site without delay.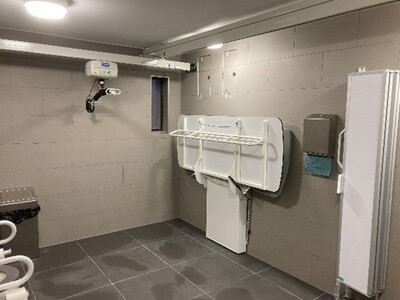 Client Testimonial
"The project was completed efficiently on programme and under budget. We are now reviewing other public toilets facilities in the district with every expectation that Danfo will be involved so to ensure a successful result. Since the toilets were reopened, we have received positive feedback from the members of the public that use the refurbished facilities."
Stuart Parkhurst, Cherwell District Council