Public Toilet at London Luton Airport
Luton Airport, London
Danfo were approached to provide a solution to the lack of public toilet facilities at the ground floor drop-off zone at London Luton Airport. Other parts of the multistorey car park were being used, leaving an unpleasant experience for visitors. Danfo designed, constructed, transported and installed the public toilet building to meet the needs of airport customers in December 2022.
Challenges of placing a public toilet at an airport
During original planning and site visits it was clear that in order to lift the public toilet building into position using a crane would require partial closure of the incoming approach road to the airport at a time of year when airlines are busy with Christmas holiday customers. In order to achieve the successful lift it was planned to be carried out at 1.00am on 14th December to minimise disruption. It was critical that logistics worked to plan from collecting the public toilet building and transporting it to site with enough time to set up a crane in order to meet the 1.00am deadline. Surveys and tests were undertaken to ensure that transfer transport buses could still use the approach road whilst the partial road closure took place.
Two weeks before 14th December we were informed that due to flight schedule changes the installation could not take place and would have to be pushed back by 24 hours to 1.00am 15th December.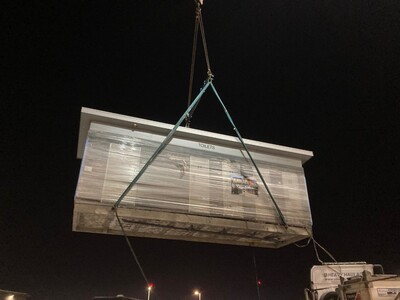 Proactive project management
To manage this change our project manager communicated immediately with transport, crane and groundswork companies to plan for a change in date and to check that all were still available and what alternative plans we had in place in case one of the contractors could not achieve the 15th December. Also during this period the concrete base foundation needed to be poured in order to receive the building. The temperatures at this time of year in 2022 in Luton were between 0 to -7 degrees so time was running out to pour the concrete in time for it to set as the cold temperatures were preventing that.
To combat these changes and potential challenges we initiated a back up plan to carry on with the installation of the public toilet building with the crane and place the building on railway sleepers in case the final install team could not make the 15th December and if the concrete base foundation was not going to set in time. We also worked with the groundswork contractor to install a different type of foundation, using concrete pads as opposed to a full raft foundation to give it more chance of setting for the public toilet building to be installed.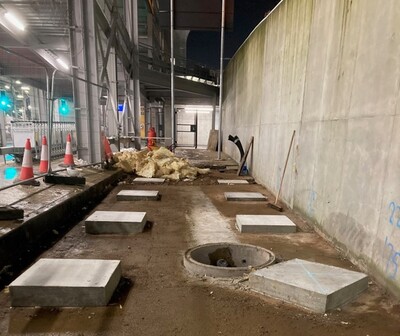 Do to effective communication and working closely with sub-contractors we managed to install the public toilet building on the 15th December at 1.00am in -7 degrees temperature onto the concrete pad foundation base.
Public toilet success
The building was delivered on time in order for the client to engage other contractors to complete reinstatements around the building. Luton Airport have increased the number of facilities for customers to use by installing the public toilet.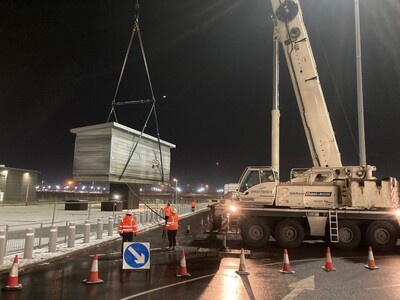 Testamonial for delivered public toilet
Client comments:
"We are very happy with our modular public toilet block, the unit is as specified, it looks the part and the fixtures and fittings are of a high quality.
Danfo representatives have been extremely helpful throughout and continue to offer ongoing support for the public toilet.
Should the opportunity arise, I would not hesitate to work with Danfo again"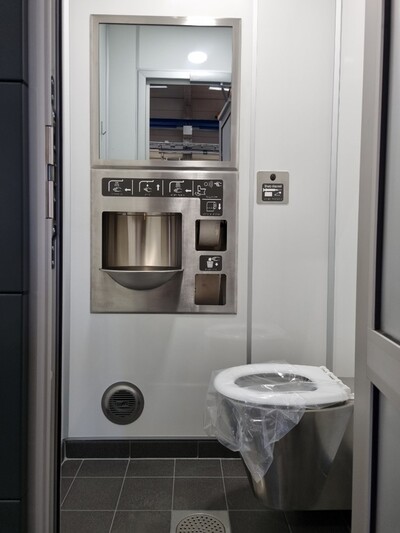 Do you also want to provide your travelers with access to a public toilet? Contact: